| | | |
| --- | --- | --- |
| | THE STAMP | |
Date of issue: 31 of May of 2002
Procedure of impression: Hollow engraving
Role: "Estucado", gummed, Phosphorescent
Serrated: 13 ¾
Format of the seal: 40,9 x 28,8 mm. (horizontal)
Postal value: 0,50 euro
Effects in sheet: 50
Thrown: 1.200.000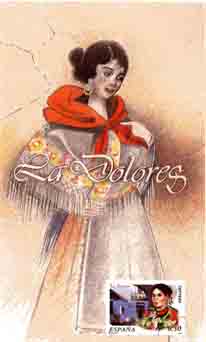 LA DOLORES
Between myth and legend, reality and fiction, the popular character of La Dolores appears depicted in this stamp.

The story of La Dolores is based upon an anonymous folksong which tells of the adventures of an honest and charitable young woman who works at a inn in the town of Calatayud. She is seduced by a barber called Melchor and wooed both by a rich merchant and by a vain sergeant named Rojas. Lázaro the seminarist and nephew of the inn owner, also falls in love with her. The story ends with the death of Melchor when he is stabbed by Lázaro.

In this story, fiction and reality mix since La Dolores did really exist. She was called María Dolores Peinador Narvión and was born in Calatayud (Zaragoza) on the 13th May 1819 in a distinguished family. When her mother died, she inherited a considerable fortune which her father administered for her. Her wretched life began after her wedding in 1839. She indulged in many lawsuits with her father because of her mother's inheritance and lived a disordered married life which lead her to poverty and gave rise to the popular folksong. Dolores Peinador died in August in 1894 and was buried in the graveyard of La Almudena.

The research work which has enabled us to get to know the history of this wretched woman has been carried out by Antonio Sánchez Portero. In her home town, Calatayud, the Inn of La Dolores, before known as Inn of San Anton still exists, and in the Museum of La Dolores are gathered the reminiscences of the life of Dolores Peinador who has now become a legend.
Seals and postmark first day of circulation